About Gary
In my career as a cruise writer, I've been called many things, but never 'Ambassador'. I once penned a column for an esteemed cruise publication under the moniker 'The Admiral' which offered a witty and occasionally cynical, overview of the cruise business.
Far removed from mundane, my seaborne gig has been unlike any other and I'm often asked about its highlights. As a new recruit to cruising's press corps, my first ship's christening saw Princess Diana inaugurate Royal Princess in 1984. Since then, I've witnessed countless champagne bottles smashed on ship's hulls by a variety of celebrities, acting royalty as well as the real deal. Two occasions transcend all others: in 2008 I attended a lunch in the presence of H.M. The Queen as part of an emotional farewell to the venerable QE2 which she christened in 1967, but nothing can match the seminal moment when I interviewed Nelson Mandela aboard that great Cunarder in 1998.
After sailing the Seven Seas for almost forty years, I've adopted Oscar Wilde's sentiment: "I'm a man of simple tastes. I'm always satisfied with the best." In my role as Ambassador for Panache Cruises I hope to share my expertise with clients who simply want the best.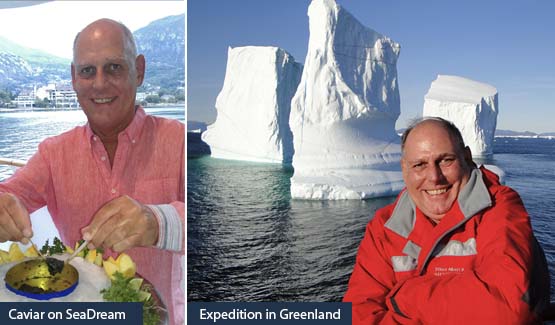 Q&A with Gary
Where do you think will be the best destinations to visit in 2022 and beyond?
As time progresses, hot-ticket cruise destinations will span the globe: Asia offers plenty of bragging rights, so too does the Caribbean and the islands of the Indian Ocean. A whole new generation of expedition ships, boasting new levels of luxury, will visit places far from the beaten track.
Is there anything exciting in the pipeline for ultra-luxury cruising that you can let us in on?
Luxury cruise ships are seizing the technological hour with new gadgets and creative tech being developed for ships at warp speed. Digital innovation platforms will revolutionise the way guests interact with ship services; while increased personal space will also become elite cruise line's new endeavour. New cutting-edge concepts from Emerald Cruises, Explora Journeys, and Scenic Eclipse put the 'port' in opportunity.
What is the best cruise destination you've ever visited?
For life-affirming encounters with nature nothing can beat a cruise through the Galápagos Archipelago with Silversea Expeditions. For sheer rapture, nudging into tranquil Aegean Islands that appear lost in time aboard a yacht-style cruise is hard to beat. So too is a navigation along the coast of Norway in late June when the Midnight Sun gilds an alfresco dinner at The Grill on Silver Muse.
What's the most impressive feature you've experienced on board a luxury cruise ship?
Two state-of-the-art Airbus EC-130-T2 helicopters on Scenic Eclipse offer a novel way to see penguin colonies in Antarctica. Marinas that extend from the stern of small ships are raised to an art form on Seabourn ships where you can enjoy swimming, snorkelling, kayaking and sailboarding.
If you had just one piece of advice for a first time cruiser, what would it be?
Hotel-based holidays just cannot compete with a cruise ship that allows you to see several destinations on a single trip. Unlike their mainstream counterparts, most luxury ships linger longer at idyllic ports, allowing you to spend the evening ashore sampling the intrinsic vibe. Azamara is a great option for real destination immersion and their 'AzAmazing' evenings are the stuff of legend.
What are the best ultra-luxury cruise lines?
There's a rare clutch of ships that can stake a claim to being the crème de la crème. Seabourn are renowned exponents in the ultra-luxe arena; likewise raising the bar on ocean and expedition cruising is Silversea; while Regent Seven Seas stake their claim as the most inclusive concept – bar none. Gourmets will be well catered for at Oceania Cruises; with destinations in sharp focus at Azamara, Emerald Cruises and Scenic.
What are your cruise predictions for 2023 and beyond?
From ice-encrusted ports to jungle adventures in tropical rainforests, off-the-beaten-track natural splendours to en vogue havens of hedonism, cruising is at the cutting edge of travel trends. I envisage expedition and indulgent river cruising will be at the forefront of the roster of sailings in the next couple of years. There will also be more creative, engaging cruise excursions that belong in an atlas of the imagination.